ITN Press Releases
December 19, 2014
- Online survey participants have until Jan. 31 to respond and will be entered into several drawings for $20 Giant Eagle gift card Somerset, Penn., Dec. 17, 2014 – We have extended the deadline on the Somerset County community mobility survey to Jan. 31, 2015, which means there is still a chance to win one of [...]
December 19, 2014
- A 95-year-old man who can no longer drive was thrilled when his daughter suggested trading his low-mileage Lexus for rides with ITNSarasota. SARASOTA, Fla. – Dec. 19, 2014 – Carol Sadler's 95-year-old father has not driven for a few years, but his car has remained in his garage, incurring registration and insurance costs so that [...]
December 19, 2014
- Volunteer of the Year demonstrates commitment by donating nearly half of his $500 prize back to ITNAmerica. CHARLESTON, S.C. and BETHLEHEM, Penn. — Dec. 19, 2014 – ITNAmerica, the only national nonprofit providing dignified transportation for older and visually impaired people, is proud to announce the winners of its national annual awards for volunteerism and excellence [...]
ITN in the Press
December 17, 2014
I was pleased to see Len Kaye's Dec. 9 BDN OpEd on senior transportation policy. Victor Hugo said, "Greater than the tread of mighty armies is an idea whose time has come." Perhaps it is finally the time for sustainable senior transportation in Maine.
Twenty years ago, with help from the Southern Maine Agency on Aging and the Federal Transit Administration, we launched in greater Portland the Independent Transportation Network, a public private effort that created senior transportation sustained by reasonable fares from riders and diversified, voluntary local community support.
December 12, 2014
You don't have to wait until Black Friday to find a deal for the seniors in your life. Fox 13′s Earle Farrell has just the thing.
I-T-N, the Independent Transportation Network is coming to Memphis.
No more taking off work to get parents or grandparents back and forth to doctor or hair appointments. ITNMemphis offers door to door service.
"It's for seniors and the visually impaired. And in the Memphis area we're defining seniors as people over 60. And anyone who is over 18, who's visually impaired, it will take people in those categories anywhere they want to go 24/7," says Pat Hickman, Operations Manager at ITN.
December 12, 2014
In early 2011, an official with a fledgling nonprofit transportation organization in Memphis talked about a plan to provide rides for older people who don't drive.
The organization, ITNMemphis, would offer them — as well as people with visual impairments — economical, around-the-clock transportation in a car, he said.
At the time, ITNMemphis had obtained a state charter, a sponsoring organization and was raising money. The optimistic official said the company planned what he called a soft opening in about four months.
That four months grew into years.
ITNMemphis finally had its opening last month and now is providing transportation for older non-drivers and the visually impaired.
November 20, 2014
Charlotte Melson is looking for a few good drivers.
"There is a huge need for older adult transportation," Melson, executive director of ITNGreaterKansasCity, said last week at an Independence Ministerial Alliance luncheon.
ITN, or the Independent Transportation Network, was started in Portland, Maine, in 1996, and has spread to 27 other cities. ITNGreaterKansasCity started last year in Lee's Summit, and Melson, with an office at the Ennovation Center in Independence, is looking to expand in Independence next.
November 17, 2014
ITNAmerica is one of 23 finalists lined up to present before the abc* Foundation Continuity Forum, an event for leaders implementing smart, sustainable and replicable solutions to large-scale problems. ITN Founder and President Katherine Freund will deliver a proposal for a National Volunteer Driver Campaign at the forum in Miami on Nov. 13 and 14.
From the 23 presentations, abc* will select three winners to receive $100,000 each and two years of marketing and communications support to design and launch their program. If selected, ITN's program would be supported by a full-time national coordinator position to be able to increase rides for our senior and visually impaired customers by increasing volunteer driver recruitment, retention, and rewards programming.
November 12, 2014
Bronze star recipient Major Harold Jellison discusses his experience as a marine during the war and earning the bronze star.
November 6, 2014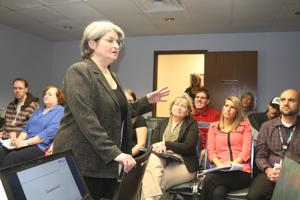 SOMERSET, PA – Grass-roots organizers are envisioning county-wide ride sharing through an online network of screened volunteer drivers and screened riders, with church vans, public transportation and donated vehicles thrown into the mix.
The Somerset County steering committee members were joined by agency leaders and others to pack a conference room Wednesday as ITNAmerica founder and President Katherine Freund outlined her non-profit organization's initiative to adapt its successful urban transportation model to rural areas.
October 13, 2014
The founders of ITNCoastalCT, the nonprofit driving service for seniors and the visually disabled, met at the annul fundraiser for ITN at the Pequot Library Friday night.
September 22, 2014
Seniors in Hall County will have a new transportation method available in 2015.
ITNLanier, a volunteer-based senior transportation model, is seeking donations and volunteers in order to begin services next July, according to Erika Walker, ITNLanier co-chair.
ITNLanier is a pre-affiliate of ITNAmerica, a national nonprofit senior transportation network. It is designed to replicate the flexibility and independence provided by private car ownership for seniors unable to drive or uncomfortable doing so.
"Basically this is a senior transportation program geared toward 65-and-older folks," Walker said. "It's unique because it offers door-through-door, 24/7, arm-in-arm service for older adults and it uses individual cars."