ITN Press Releases
November 11, 2014
- ITNGreaterSanDiego will honor member rider Major Hal Jellison as part of a special Veteran's Day Family Fundraiser celebration in San Diego this evening. Major Jellison is a US Marine Corps combat veteran who served in World War II, Korea and Vietnam over a 26-year military career. He was nominated for the Silver Star and received a Bronze Star [...]
October 21, 2014
- Founder of national non-profit transportation solution ITNAmerica® keynotes community forum Nov. 5, online survey participants could win a $20 Giant Eagle gift card Somerset, PA, Oct. 21, 2014 — Riding a bicycle 20 minutes to work in one of the nation's snowiest counties is not anyone's idea of a sustainable lifestyle. Neither is missing a [...]
October 20, 2014
- ITN earned some fantastic press in The New York Times this weekend! Founder Katherine Freund, ITNCoastalCt volunteers Jacqueline Masumian and Joel Beckoff, and Judi Bonilla from ITNGreaterSanDiego's Council of Advisors were quoted in the article, which stressed the importance of baby boomers planning for future transportation needs. Read the full article online here
ITN in the Press
November 20, 2014
Charlotte Melson is looking for a few good drivers.
"There is a huge need for older adult transportation," Melson, executive director of ITNGreaterKansasCity, said last week at an Independence Ministerial Alliance luncheon.
ITN, or the Independent Transportation Network, was started in Portland, Maine, in 1996, and has spread to 27 other cities. ITNGreaterKansasCity started last year in Lee's Summit, and Melson, with an office at the Ennovation Center in Independence, is looking to expand in Independence next.
November 17, 2014
ITNAmerica is one of 23 finalists lined up to present before the abc* Foundation Continuity Forum, an event for leaders implementing smart, sustainable and replicable solutions to large-scale problems. ITN Founder and President Katherine Freund will deliver a proposal for a National Volunteer Driver Campaign at the forum in Miami on Nov. 13 and 14.
From the 23 presentations, abc* will select three winners to receive $100,000 each and two years of marketing and communications support to design and launch their program. If selected, ITN's program would be supported by a full-time national coordinator position to be able to increase rides for our senior and visually impaired customers by increasing volunteer driver recruitment, retention, and rewards programming.
November 12, 2014
Bronze star recipient Major Harold Jellison discusses his experience as a marine during the war and earning the bronze star.
November 6, 2014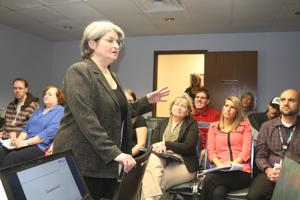 SOMERSET, PA – Grass-roots organizers are envisioning county-wide ride sharing through an online network of screened volunteer drivers and screened riders, with church vans, public transportation and donated vehicles thrown into the mix.
The Somerset County steering committee members were joined by agency leaders and others to pack a conference room Wednesday as ITNAmerica founder and President Katherine Freund outlined her non-profit organization's initiative to adapt its successful urban transportation model to rural areas.
October 13, 2014
The founders of ITNCoastalCT, the nonprofit driving service for seniors and the visually disabled, met at the annul fundraiser for ITN at the Pequot Library Friday night.
September 22, 2014
Seniors in Hall County will have a new transportation method available in 2015.
ITNLanier, a volunteer-based senior transportation model, is seeking donations and volunteers in order to begin services next July, according to Erika Walker, ITNLanier co-chair.
ITNLanier is a pre-affiliate of ITNAmerica, a national nonprofit senior transportation network. It is designed to replicate the flexibility and independence provided by private car ownership for seniors unable to drive or uncomfortable doing so.
"Basically this is a senior transportation program geared toward 65-and-older folks," Walker said. "It's unique because it offers door-through-door, 24/7, arm-in-arm service for older adults and it uses individual cars."
September 16, 2014
Tennessee communities struggle to meet the transportation needs of older adults. The issues across America tend to be the same:
How to provide the kind of door-through-door service older people want and need;
How to recruit enough volunteer drivers and how to manage insurance;
How to arrange rides, especially in rural and suburban communities; and
How to pay for it all.4
Tennessee could consider implementing the ITNAmerica model, or something similar, throughout communities in the state. ITNAmerica works with communities to help develop dignified and sustainable transportation options. ITN volunteer drivers store transportation credits for their volunteer efforts. These credits may be used to plan for their own future transit needs or they may use these credits to help pay for rides for members of their family or for low income seniors through a scholarship program. ITN transportation credits are honored at any ITN in the country. ITN's goal is to provide the expertise, tools and state-of-the-art technology that allow organizations to serve more people without additional resources or funds.
September 16, 2014
Katherine Freund of Maine has told the story many times. In 1988, her 3-year-old son Ryan was run over by a car. The driver was 84 years old.
The boy made a full recovery, but the incident changed his mother's life. At first, she looked into the possibility of stricter licensing rules for older drivers, but then changed tactics.
"Older drivers need options if they're going to give up their cars," she told a New York Times reporter years later. "There's a black hole in our public policy." So, she started an organization called the Independent Transportation Network in Portland, Maine, to offer low-cost rides to senior citizens who have difficulty driving but want to retain their independence.
August 18, 2014
The freedom to drive is something we expect to continue to do but what if you had to make the key decision? The decision to determine if you, or perhaps your parents can no longer safely drive. How will they get to the grocery store, a doctor's appointment or fill prescriptions? The answer is ITNGreaterKansasCity.
Initiated in Portland, Maine in 1996 by Katherine Freund, the ITN concept pairs volunteer drivers with non-driving older adults in order to preserve their dignity and independence while encouraging safer roads for everyone. The local affiliate of ITNAmerica, ITNGreaterKansasCity was launched in Lee's Summit in Sept. 2013.
August 12, 2014
Several years ago, Bob Halko began cutting back on his driving. He stayed off the freeways, avoided rush-hour traffic and stopped driving at night. Then he found he could no longer drive, and that public transportation couldn't move him efficiently from his home in Inver Grove Heights to the places he wanted or needed to go. His four daughters, each living in widely scattered Twin Cities suburbs, stepped up, shuttling him to and from medical appointments in St. Louis Park, to the pharmacy and on shopping errands.
"Between us, we made it work," says daughter Trish Halko. "We drove him all over the place."
Their support enabled Bob to remain in his home until he died, at age 81. Eventually, the experience led Trish to help organize, and now to chair, a local affiliate of a national nonprofit here, ITNTwinCities, which will transport the growing ranks of nondriving seniors living mostly in Hennepin County's northwest suburbs starting this fall.